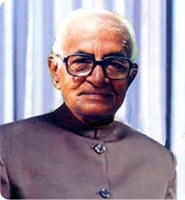 OUR FOUNDER
Professor V.I. Subramoniam : 18-2-1926 – 29-6-2009

One of the pioneers in the academic study of Dravidian Languages and cultures, Professor V.I. Subramoniam was convinced of the need to establish a complex of institutions devoted to research into and authoritative publications on this family of languages and the people who spoke them. For him, to think was to act. After a brilliant academic career in the Annamalai University and the U.S.A., he became the Head of the Department of Tamil at the University of Kerala at an early age. Subsequently, he founded and headed the Department of Linguistics in this University. Supported by a set of bright young students in whom he inspired the same passion for academic research, he founded this set of institutions. He was the guiding spirit, and through indefatigable effort, he built them up, over a period of 37 years. His loss is recent, but we who are here continue to strive to fulfil his vision.
PRESENT DIRECTOR OF ISDL





Prof. Naduvattom Gopalakrishnan

is the present Director of the International School of Dravidian Linguistics. He took charge on 19th April 2018..
THE RATIONALE
About one-fourth of the People of India speak one or another Dravidian language. It is the major language family in the southern States, viz. Andhra Pradesh, Karnataka, Kerala and Tamil Nadu, and in the Union Territories of Pondicherry and Lakshadweep Islands. Brahui, perhaps the oldest member of the Dravidian Family, is spoken by six lakh people in Pakistan, Afghanistan, Iran; 10,000 speak Dangar in Nepal. There are old and new migrants in Sri Lanka, Malaysia, Singapore, Myanmar, Indonesia and Africa. In fact, about 30 million Dravidian speakers are migrants and settled all over the world.
HISTORY
A "Call Notice" regarding the formation of an Association for the study of Dravidian languages, and all aspects of Dravidian culture and people, was issued jointly by late Prof. V.I. Subramoniam (Kerala University), R.C. Hiremath (Karnataka University), and Mahadeva Sastry (SV University) on 15th March 1971. A two-day Conference was held at Thiruvananthapuram, presided over by Prof. Suniti Kumar Chatterji, the then doyen of Indian linguistics. The DLA was born, with Prof. Chatterji as its first President. Even before the registration of the DLA, the learned bi-annual, International Journal of Dravidian Linguistics (IJDL), was established with the issue of its first number in 1972. This first issue carried articles from world-renowned

scholars like Emeneau and others. Since then, without break, two issues have appeared every year. Prof. Subramoniam was the Editor for 28 years until 2000 when Prof. B. Gopinathan Nair took over this task. As the membership of DLA increased, it became necessary to keep in touch with them by the issue of a Monthly Newsletter, the DLA News.
In order to attract researchers and scholars, it was decided to transfer these functions to a learned body. The International School of Dravidian Linguistics (ISDL) was accordingly formed on 25th February 1977 with Prof. R.C. Hiremath of Dharwad as the first Internal Director, and Prof. F.C. Southworth, USA as the External Director. A Council of Direction with Prof. George Jacob, the then Vice-Chancellor of the Kerala University, as the President, was also constituted.

The Late Sri. C. Achutha Menon, as the then Chief Minister of Kerala, wanted to emulate the great strides in other countries like Russia, U.S.A., in Linguistics. He solidly supported the work of DLA and sister institutions, especially ISDL, which had a humble beginning and initially worked in an old house at Kunnumpuram, Vanchiyoor, in Thiruvananthapuram City. Later, 27 acres were purchased from the management of St. Xavier's College and developed into its present site. We have renamed this as V.I. Subramoniam Memorial ISDL Complex in memory of our Founder. more...

Prof. V.I. Subramoniam and his associates convened the First Conference of Dravidian Linguists as early as 1971. Since then, without break, the Conferences have been an annual feature. more...
DLA celebrated its Silver Jubilee in 1996; the IJDL, in 1997. The ISDL Silver Jubilee was celebrated in 2002.
The Proceedings of the first three Conferences were published by ISDL. The more important learned papers presented at the subsequent Conferences have been incorporated in the issues of IJDL.
Over the years, a series of Awards and Prizes has been installed for recognizing merit, especially among young scholars.